3:06 am
[l8ty_velvet]

Picture Inspiration
There are some cool pics on the
dark_images
and the
fetishgoths
community check it out for some inspiration for the dead girls of Windsor shoots!
5:00 pm
[queenwicked]

1:37 am
[queenwicked]

here is the only picture i have available online.
i'm stephanie
interested in being part of this community.
sorry for the large photo.
disappointed because this is the only one i have.
hopefully i'll have more soon.

Current Mood:
determined
6:20 pm
[willucry4me]

HI ALL
Well, since I think i'm the only person here who has done any type of corpse photoshoot in the past (And Dave never gave me credit for stealing this from me)... I should probably say a few words of welcome and introduce myself separately as you will see lots of work from me.
I've had the dead girl photos idea for a long time now. It started with me reading up on serial killers. Some serial killers favoured women. And while the murderer became legendary, the women were unnoticed. The victims are always mentioned in numbers "he killed 30 women during his career".. People think "yeah, 30 is a lot.. but not that much really. more people die in car accidents". No one looks past the glassy eyes to find out WHO the woman was. WHY she was picked. Why was she murdered this particular way.. Did she fight? What life did this end. My work i meant to focus on the murder, but also on the personality and life of the victim. I want to show that there is still something there behind the blood and gore that has personality.
I'm Loni, 20, From Toronto.
I will be needing models in this area soon. so.. if anyone is from here, lemme know.
Examples of my previously done, ongoing work: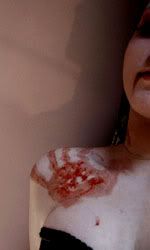 (
dead girls dont say no
Collapse
)
3:18 pm
[buddhadave]

Welcome
Welcome everyone to Dead Girls Windsor
the community to plan, discuss and share ideas for the corpes art photo shoot i want to do... i hope this community grows behond a simple message bored and that people from other areas take up the challenge and do some dead girls shoots as well so we can grow and share some fun art.
so i welcome you all and suggest you all make a post introducing yourselves and how you are involved, ie modeling, make-up photographer etc
as for me, im David... i am also
between_shadows
so if i slip up and post under both... its just cause i forget. im a photographer, i am at the university of Windsor studying Communications studies, with a focus in film and media productions
Current Mood:
creative